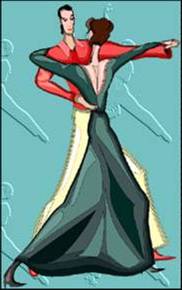 "The Affordable, Fun and Effective Way to Learn to Dance"
Welcome!
Are you interested in meeting people, getting connected, and learning how to dance, all in one "step"? Then come join us for our Beginner and Intermediate Ballroom Dance Classes, Latin Social Dance Classes or our Ballroom Dance Practice Parties, Formals, and Fundraisers.
►I'm new: Choose from our list of Community Locations (grid below on right) a location that is convenient for you. Then enroll in the next Ballroom 1 Class series
Our beginner group series class is designed for first time dancers. Worry free- you will be taught everything you need to know to join us on the dance floor. The beginner class curriculum includes: waltz, foxtrot, rumba, and swing. The dance instruction is formatted to progress the students level of dance. Lessons are taught by a nationally certified instructor. Partners are not required as we rotate partners throughout the class. Singles and couples are welcome!
Community Updates

Community Locations

New Series starting August 27 and September 4th at Perimeter Church. Enrollment is now open.

Ladies: many classes fill up early, if the website indicates the class is closed to single ladies and it doesn't block your enrollment, then you will be placed on a wait list if you still enroll. The current system doesn't tell you that you are on a wait list if it doesn't block your enrollment. If you decide to show up anyway, you need to wait and see if there are drops or no shows when a class is listed as already full (note: Don't get on a wait list, instead enroll early before class fills up!).





Newcomer? Never ballroom danced before or need a refresher of the basics? We host a free intro lesson with paid admission at the start of each Saturday night Practice Party. Join us at the next Practice Party. If you want to learn more, enroll in one of our Ballroom 1 series classes.

We have several community locations in the Atlanta Metro Area to choose from - each with group lessons and practice parties:

Duluth/Johns Creek at Perimeter Church

Johns Creek/Alpharetta at Johns Creek Baptist Church


Roswell at St.David's Episcopal Church

Decatur at


Flowery Branch at Blackshear Place Baptist Church

Snellville at Snellville United Methodist Church

Jonesboro at First Baptist Churcn Jonesboro

The Ballroom Dance Community serves to develop friendships and relatedness,
promotes health and fitness, and reaches out to a diverse group of
Atlantans by introducing them to the possibilities of Ballroom Dance
and of being valued as a community member through quality and fun dance
instruction, entertaining social dance events, and community building
service projects. We have the largest Ballroom Dance Program in Atlanta
and are continuing to build new communities throughout the Atlanta
metropolitan area.